Mighty Writer Optimus Education Review
Reviewed by Sarah Booker, Optimus Education, Special Children Magazine: Issue 234 Jan - Feb 2017
Mighty Writer is a very tactile resource that brings writing to life.
It is a floor mat 164cm wide by 127cm deep with 'toolbars' arranged around the edge. The various toolbars contain sentence starters/conjunctions, images, punctuation and symbols for adjectives, verbs and adverbs.
I use the mat to support the children's writing in many different genres, from storytelling to factual reports. I also use it to work on grammar. Pupils sit around the edge and learn how to build up a sentence word-by-word, phrase-by-phrase, using the correct punctuation. When we are all happy with the piece, I hang the mat up on the wall using the two poles that come with the kit. This way the children have a visual prompt in front of them when it comes to putting pen to paper.
Two years ago, in my previous school, I was invited to trial the Mighty Writer soon after I had taken over a Year 2 class in the middle of the school year.
I found that the children were really reluctant to write. The class included a typical range of abilities, from pupils with SEN to the gifted and talented. However, they all lacked confidence and were constantly rubbing things out because, as they said: 'It's not perfect.'
When I used Mighty Writer with them, they became really engaged and the act of physically working together on a sentence gave them huge confidence.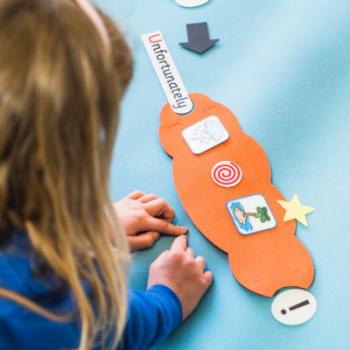 Because they had so many visual clues to help them write, they became readier to make changes and add things, and realised that sentences could evolve and that this was fine.
I suspect that this was because they were not being asked to put pen to paper from the start, so they didn't have to worry about making mistakes in their early attempts.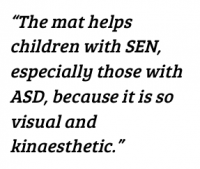 The mat helps children with SEN, especially those with ASD, because it is so visual and kinaesthetic. They can see, reach for and touch the full stop and physically put it in place. The mat works just as well for gifted and talented children because I work on extending their sentences and vocabulary.
In fact, soon all the pupils in the class were enjoying working on extended noun phrases because they could pick a picture from one of the tool bars and think of all the ways they could describe it. It made writing more fun because they were reaching out and picking up words and adding details to these, along with punctuation, and physically placing them on the mat, rather than sitting still at their desks while I wrote on the whiteboard.
I do not know if it was the physical act of picking up a full stop and plonking it down at the end of a sentence that locked it into their memories, but the class as a whole became better about remembering to use full stops.
The mat also comes with various symbols to represent adjectives, verbs and adverbs. So I might put the adjective symbol in front of a noun, and get the children to think of their own description when they came to write the piece up, the symbol acting as a little prompt. Soon, however, just the picture of the noun became enough to remind them to use an adjective because they could remember the class discussion and see the hard wooden chair. Their confidence soared and it was not long before they were writing other pieces using the same structures.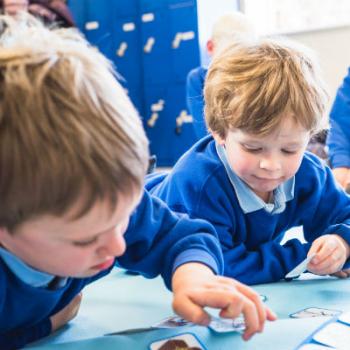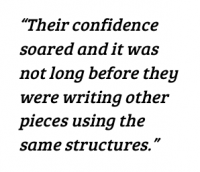 Sometimes I used to put the mat on the floor and step back just to see how they would play with words; they used to come up with all sorts of sentences and really used their imagination because they could pick any picture they wanted. The key is that they wanted to use it because it was so tactile.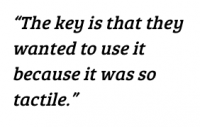 I found it was like using Pie Corbett's methodology where storytelling is taught in a multisensory manner. With this, actions are used to make stories, especially the key connectives, memorable.
In the same way, the pupils had all their sentence starters on the tool bar in front of them – suddenly, first, next, at that moment – and when they went to write, they would use these because they remembered them.
The mat comes with a standard set of tiles with 88 images, including living things, objects and environments, as well as lots of blanks so you can create your own words and images and then wipe them off afterwards.
For instance, there are five blanks in the conjunction set, eight for connectives/sentence starters, and 20 for images/nouns.
Extra themed images on toolbars can be acquired separately. For instance, there are themed tool bars with 22 tiles each for stories including Three Little Pigs, Little Red Hen, Jack and the Beanstalk, and Goldilocks, each colour coded around the edge so that you can put them away easily.
Other themes include real life, fantasy and outer space.
Try Mighty Writer for yourself
"I think the Mighty Writer really motivates and inspires children to write while enabling them to become more confident in their literacy skills."